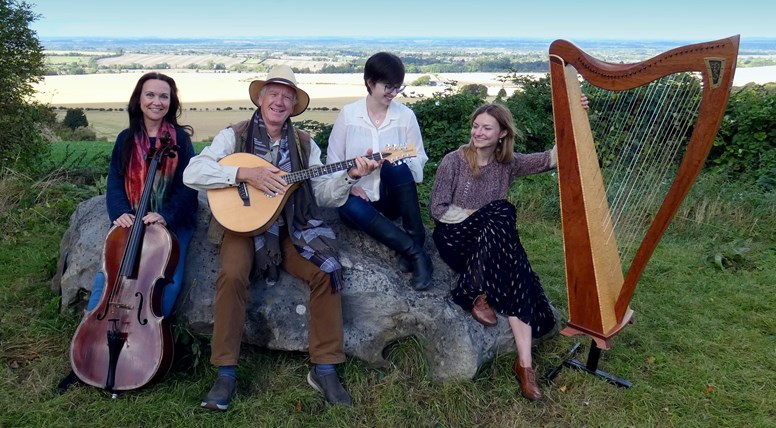 Moonrakers perform sparkling and unique arrangements of traditional British folk songs and tunes as well as their own compositions. Their live shows are informative, full of musical variety and suitable for all ages "startlingly talented", Oxford Times, "exquisite arrangements", BBC. Included in the show will be ancient mystic ballads such as The Unquiet Grave, beautiful lyrical tunes such as Shotover, and joyous chorus songs such John Barleycorn A Hero Bold. The band's prolific recorded output has received glowing reviews from the music press "The Real Deal", The Living Tradition; "Uplifting, sensitively crafted songs and tunes" FATEA magazine. The line-up tonight will includes Becki Luff (Celtic harp) who has played at prestigious venues such as The Wigmore Hall and The Sage; Jacqui Johnson (cellist), formerly with the Melbourne Symphony Orchestra and performs regularly as a soloist; and Jon Bennett (bouzouki, guitar, whistles, bodhran, vocals) an award-winning songwriter and a published composer.
Illustrated by traditional and contemporary songs and tunes, Moonrakers examine the hidden world of myth and superstition in British folklore. Folk song has always been a powerful medium of transmission for these, allowing skilled storytellers and songwriters to weave the trials and tribulations of daily life into tales of wonder. Moonrakers' repertoire includes devils, ghosts, witches, selkies, elves, fairies, and more.
Moonrakers play Celtic harp, cello, fretted instruments, harmonium and flutes. The band's rich male/female vocal harmonies bringing to life ancient ballads and a contemporary twist on how other-worldly beliefs persist even today. The informal show includes an introduction to the source and inspiration behind each song and tune; it is suitable for older children and adults.
2023 sees the release of a new Moonrakers album "Green to Gold". It includes unique arrangements of traditional songs plus several songs and tunes written by the band in the folk idiom. The title track was composed for the 150th anniversary of the birth of Ralph Vaughan Williams and was premiered at the RVW Festival in 2022.
Book Your In-Person Tickets