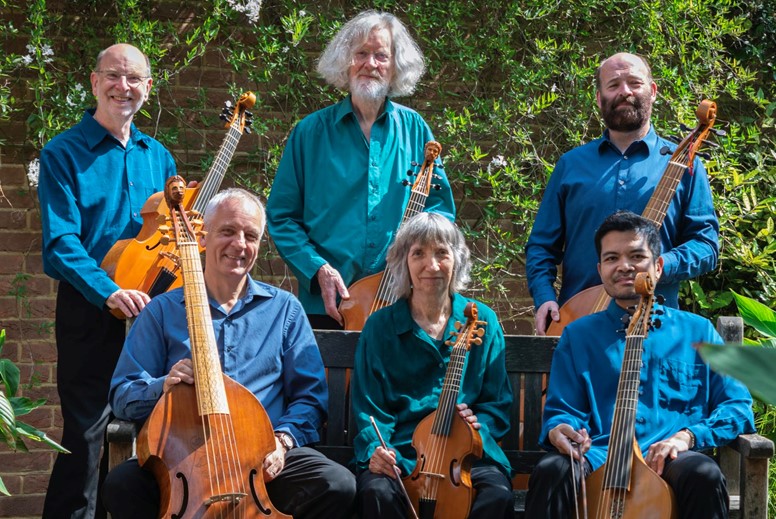 The Rose Consort of Viols takes its name from a famous family of sixteenth-century viol makers, whose instruments coincided with the growth of English consort music. With its unique blend of intimacy, intricacy, passion and flamboyance, this music ranges from Taverner and Byrd, to Lawes, Locke and Purcell, and forms the nucleus of the Rose Consort's programmes. For nearly four decades the Rose Consort has been delighting audiences across the UK, Europe and further afield. It has performed in London's Wigmore and South Bank halls, is heard regularly on the BBC, including a Prom concert from Cadogan Hall, and makes frequent appearances at the London International Exhibition of Early Music and York Early Music Festival. It has performed at Festivals in Canada (Festival Vancouver) and the USA (Boston, New York, Boulder, Portland and Seattle) and also featured as a guest ensemble at the Pan-Pacific Gamba Gathering in Hawaii. It has also performed with the choirs of Manchester Cathedral and Oslo Cathedral, as well as at festivals in Bratislava, Nuremberg, Cologne and in Austria. The consort's 21 recordings on Naxos, Deux-Elles and Delphian use three different sets of instruments to cover repertory from the late fifteenth-century origins of consort music to the music of Henry Purcell. The consort has received awards for research and performance of specially devised programmes, and has also commissioned and performed new pieces for voices and viols by Judith Bingham, John Woolrich, Ivan Moody and Juta Pranulyte. For a number of years the Consort appeared at Dartington International Summer School, giving concerts and coaching ensembles, activities it now continues here at Benslow Music in Hitchin.
Remembering Byrd and Weelkes
William Byrd and Thomas Weelkes both died 400 years ago in 1623. Both wrote elegant fantasias, In nomines and dances for viols, alongside vocal music that both composers described as fit for voices or viols. This programme presents a cross-section of their output, enabling us to admire their skill in exploring a wide range of musical styles.
Book Your In-Person Tickets