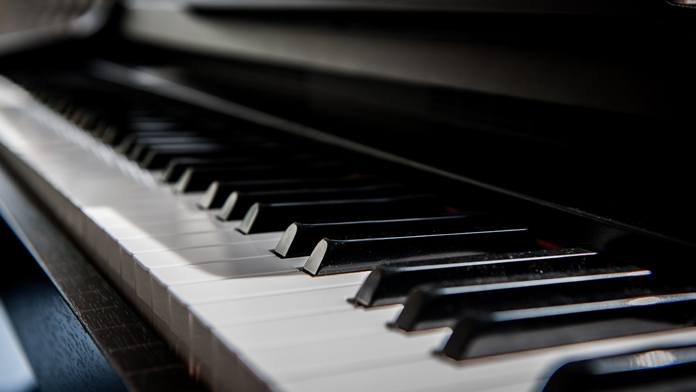 This course offers an opportunity to meet in a friendly and supportive atmosphere to play solo piano music under the guidance of an expert, experienced and encouraging tutor.

STANDARD: IMPROVER, CONFIDENT, SKILFUL

Resident: £339 Non-Resident: £246 (25% off for under 27s) Code: 23/250

Booking for Members opens at 11am on Monday 12 December 2022.

Non-Member and online booking opens at 11am on Monday 9 January 2023.

For details on how to become a Member to take advantage of early booking, see here.
What is the course about?
This popular course led by Timothy Barratt explores some of the repertoire from 'The Century of the Piano', including works by Chopin, Schumann, Mendelssohn, Brahms and others. Pianists of intermediate (minimum Grade 5) and advanced level are invited to bring along two or three own choice pieces and Tim will offer stylistic insights and technical help to improve confidence. Open, lively discussion is encouraged within a friendly, supportive environment. Participants should prepare two or three own choice pieces to work on during the course.
What will we cover?
Overview of Romantic repertoire and style.
Discussion of structure and musical features of Romantic composers.
Managing textures, rhythm/pulse, touch, pedalling, rubato, phrasing and dynamics in performance of Romantic music.
What will we accomplish? By the end of this course you will be able to…
Play with greater confidence to a supportive, sympathetic audience.
Gain an overview of the Romantic Piano repertoire and the means to achieve a stylish performance.
What level is the course and do I need any particular skills?
Standard: Improver, Confident, Skilful
How will the course be taught, and will any preparation be required?
There will be daily one-to-one sessions and individual tuition within group settings led by the tutor. However, participants are encouraged to contribute towards supportive feedback.
Discussion on style and repertoire.
Preparation at home of the chosen pieces is vital for gaining maximum benefit from the course.
Will music be provided in advance of the course?
No, participants should bring a copy of the pieces they intend to play during the Course. The library contains an extensive collection of piano music which may be borrowed for reference - or an iPad might be useful for sourcing music.
Is there anything I need to bring?
In addition to chosen pieces, participants may like to bring some duets (eg. Brahms Waltzes Op 39, Dvorak Slavonic Dances, Grieg Norwegian Dances) for informal music-making during the course.
What previous participants said about this course…
"I really enjoyed the intense workshops. I haven't been on a music course before but this was so lively, engaging and yes fun that I will be booking again. The tutor was knowledgeable and enthusiastic and not too critical. Great!"

"Very well presented. Tim Barratt was very organised and made the most of the time."