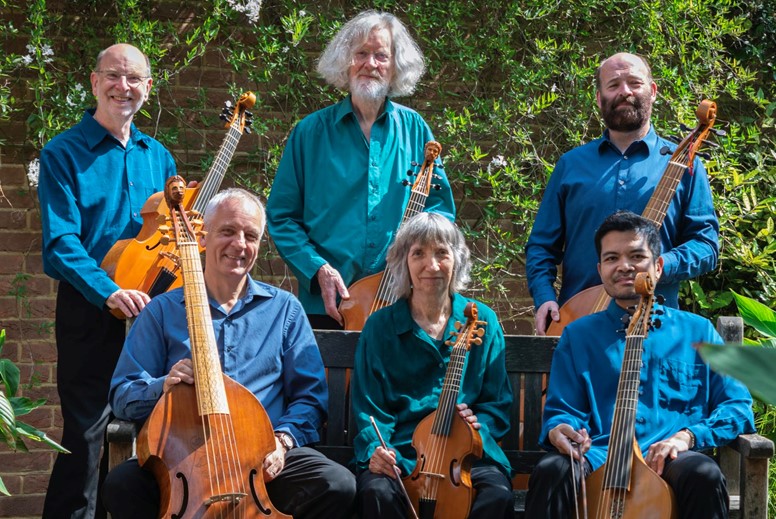 Five days of viol consort playing in a variety of group sizes with other players of an advanced level, and opportunities to study various afternoon 'options' including technical sessions, some lesser known repertoire and/or renaissance viols.

STANDARD: SKILFUL.

Resident: £747 Non-Resident: £590 (25% off for under 27s) Code: 23/502.

Booking for Members opens at 11am on Monday 27 February 2023.

Non-Member and online booking opens at 11am on Monday 27 March 2023.

For details on how to become a Member to take advantage of early booking, see here.
What is the course about?
One of the most prestigious and well-established summer schools for viol players in the UK, our International Viol Summer School, directed by Alison Crum, offers an invaluable chance for viol players with a particular interest in English consort music to work with members of the world renowned Rose Consort of Viols for the best part of a week. There will also be optional sessions on several other aspects of viol music, such as bowing technique, madrigals and motets, early renaissance repertoire, as well as evening lectures and demonstrations. We are looking for experienced players with good sight reading skills capable of playing at least two sizes of viol. The course fee includes entry to the Rose Consort's concert on the Wednesday evening. Please note that this course finishes after lunch on the Friday.
Tutor website: www.roseconsort.co.uk
Please note: John Bryan will be tutoring on this course for a day (4 sessions).
What will we cover?
English viol consort music repertoire for 3 to 6 viols. Options to include specific composers and/ or musical styles from other parts of Europe, from the 16th to 21st century. Opportunities to play earlier music on renaissance viols. Some technical sessions and discussions. Occasional larger group sessions with a chance to sing.
What will we accomplish? By the end of this course you will be able to…
Expand your knowledge of the huge repertoire for viols in consort, and understand the structure of the music better. Learn or improve some essential viol techniques which should help you make a more beautiful sound and improve group phrasing and tuning. Meet some new players of a similar level for future playing.
What level is the course and do I need any particular skills?
This course is for musically advanced viol players who are experienced in playing in consort, aware of good tuning, and able to sight-read most of the standard repertoire at a reasonable speed. They should be able to select suitable music from the suggested composers of the day. Ideally, most participants will be able to play at least two sizes of viol, and should be happy to read at least two clefs. Any players who are not well known to at least one of the tutors will need to provide full details of their previous experience.
How will the course be taught, and will any preparation be required?
Most of the sessions will be in small groups of 3 to 6, playing one to a part. Each group will have a tutor for at least half of each session, and sometimes for longer. Occasional sessions will be larger scale with full time tuition. Tutors will rotate between groups, and groups will change twice each day. There is no specific preparation needed for this course, except to make sure that your instrument(s) is in good playing condition, and able to be tuned quickly.
Will music be provided in advance of the course?
No - music will not be provided or suggested in advance of the course. Some music will be provided by the tutors, but participants are also expected to bring a good selection of their own music, with scores if possible, including some of the standard English repertoire, and for any pieces they would particularly like to be coached on.
Music may be borrowed from the Benslow library which now has a good collection of viol consort music. Helpful resources: IMSLP has a wide range of parts and scores
Is there anything I need to bring?
Viols, with spare strings. Some music (as above) unless coming by public transport. Folder to put behind single sheets of music. Tuning meter. Stand lights if eyesight is poor.
What previous participants said about this course…
"An interesting and friendly course in a most beautiful venue, passionate amateur participants, tuition of high quality, good food!"

"Good opportunity to play a lot with other like-minded people."

"Friendly, well run and challenging."