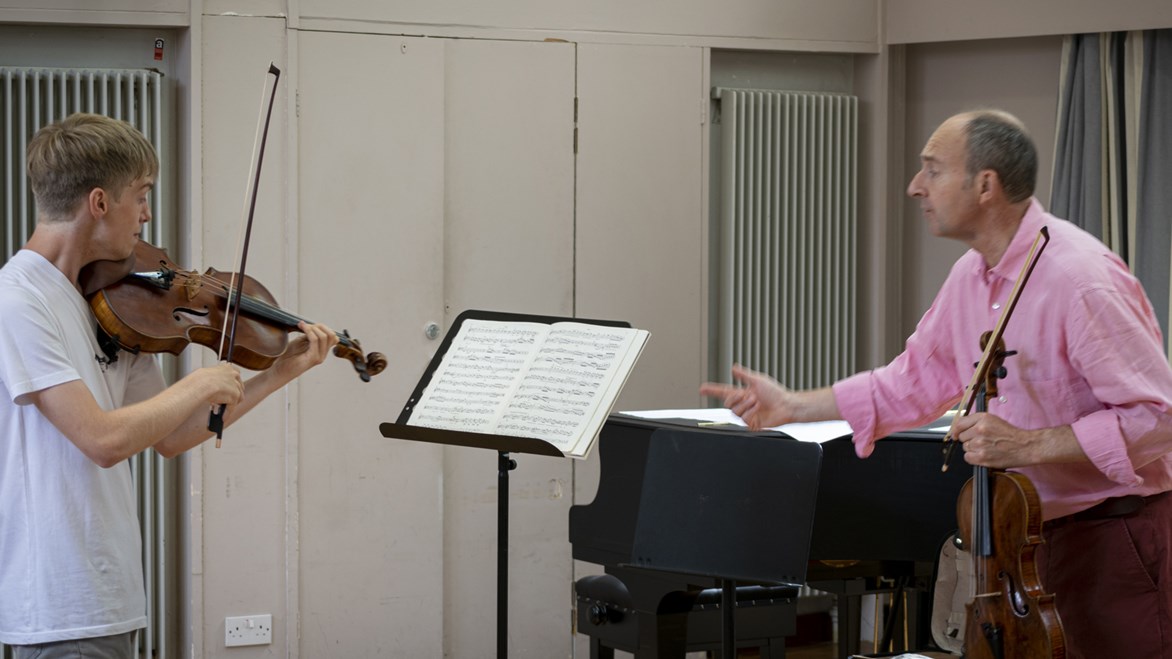 A week of alto celebration, a course for immersing yourself in all things viola! A chance to play a very varied range of ensemble music with others and on your own. There is something for everyone who loves the middle voice and wants to know more...

STANDARD: SKILFUL.

Resident: £624 Non-Resident: £492 (25% off for under 27s) Code: 23/405.

Booking for Members opens at 11am on Monday 27 February 2023.

Non-Member and online booking opens at 11am on Monday 27 March 2023.

For details on how to become a Member to take advantage of early booking, see here.
What is the course about?
This is a course for players at the most advanced level, from conservatoire entry standard upwards. Martin will guide participants in all areas of technique and interpretation in friendly, informal masterclasses and private lessons. In addition to the lessons with Martin, Julian Rolton will also be available to rehearse repertoire of your choice for viola and piano. This is an ideal opportunity to work with a pianist who is a recognised specialist in this repertoire. There might also be ensemble work and open discussion, and there will be a session led by a leading practitioner on baroque performance practice. We encourage participants to perform informally with pianist Julian Rolton on the final day and also to collaborate with other courses on campus out of timetabled hours. Don't forget our automatic 25% reduction (excluding supplements) for under 27s.
What will we cover?
Viola repertoire, technique, history, instruments, bows….even viola strings!
What will we accomplish? By the end of this course you will be able to…
Raise your game! You'll be able to play with better understanding of how musical and technical challenges within works being studied may be addressed and developed.
What level is the course and do I need any particular skills?
This is a course for players at the most advanced level, from conservatoire entry standard upwards.
How will the course be taught, and will any preparation be required?
All participants should prepare either unaccompanied pieces or works with piano that they can enjoy playing with Julian throughout the course. Martin will then share his experience, making comments in a friendly, positive and constructive atmosphere, enabling participants to improve their level of performance.
Will music be provided in advance of the course?
No, participants are requested to bring their own solo music. Martin will provide all ensemble music.
Is there anything I need to bring?
Only your viola and your solo music.
What previous participants said about this course…
"Amazing teacher. Whichever student he had in front of him he knew exactly how to help them. Even with the accomplished he was able to transform the music. Julian our accompanist was excellent as well."

"Martin, Julian and Nicolette (baroque workshop) were all insightful and communicated creatively to help each of us to think more musically for ourselves. It was a wonderfully varied, rich and satisfying learning experience. There was also a very welcome session with Melanie Outram on breathing, mindfulness and visualisation. The course as a whole was not only musically developing, but life-enhancing."