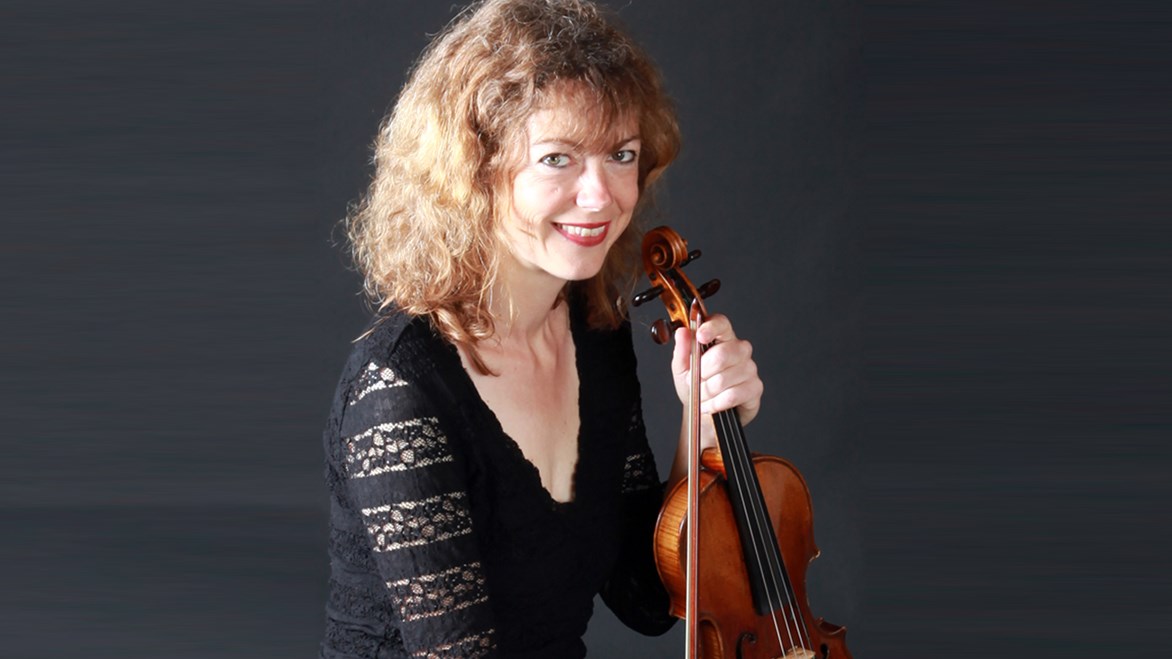 Summer School for solo violinists, featuring daily lessons in a masterclass setting, workshops, performance classes, tutors' concert and final students' concert

STANDARD: SKILFUL.

Resident: £624 Non-Resident: £492 (25% off for under 27s) Code: 23/404.

Booking for Members opens at 11am on Monday 27 February 2023.

Non-Member and online booking opens at 11am on Monday 27 March 2023.

For details on how to become a Member to take advantage of early booking, see here.
What is the course about?
Violinist Susanne Stanzeleit returns to Benslow Music for her Violin Summer School, teaching up to ten students of diploma/music conservatoire standard in repertoire, technique and interpretation in a masterclass setting. Susanne will offer the opportunity for discussion, while there will also be workshops, performance platforms, a concert given by Susanne and John and a final informal concert given by participants. Don't forget that for under 27s our automatic 25% reduction on the price of the course (excluding room supplements) applies.
Tutor website: https://www.bcu.ac.uk/conservatoire/about-us/birmingham-conservatoire-tutors-and-staff/susanne-stanzeleit
http://primrosepianoquartet.org.uk/
What will we cover?
The solo works brought for lessons (violin concerti, sonatas, virtuoso pieces), topics relevant to the performer (practice, interpretation, stylistic awareness, knowledge of music history, analysis etc), the art of solo performance.
What will we accomplish? By the end of this course you will be able to…
Be more accomplished in the repertoire you brought
Have had a lot of space and time for personal practice away from the stresses of college or professional life
Be a more confident performer
Have learnt new ideas about practice, interpretation, presentation, repertoire
Perfect timing to prepare for the new academic year at music college!
What level is the course and do I need any particular skills?
You need to be of diploma or music college standard, able to perform your chosen repertoire in front of your colleagues.
You can be a current student at music college, a young professional, a music or instrumental teacher or an amateur player of diploma standard with some experience in solo performance
How will the course be taught, and will any preparation be required?
The course consists of individual lessons, some of which are with piano accompaniment from John Thwaites, which are open to other participants. In addition there is some violin ensemble playing, workshops and performance classes which involve all participants.
Workshops are led by Susanne but involve feedback and discussion plus some practical involvement from everyone.
Works brought for lessons will need to be of sufficient standard to be performed informally.
Piano parts for your chosen repertoire will be needed. Duo/sonata repertoire will be covered with input from John.
Informal performance classes are designed to be very encouraging and positive, involving guidance from Susanne and feedback from other participants.
Will music be provided in advance of the course?
Participants are requested to bring their own music and piano parts/scores. Helpful resources: IMSLP has a wide range of parts and scores. Benslow Music members may be able to hire the music from our library…
Susanne will bring her own parts of pieces covered for information/ideas on fingerings and bowings.
Is there anything I need to bring?
Yourself, violin, lots of enthusiasm and willingness to practise!
What previous participants said about this course…
"Super range of playing and studying."

"You shouldn't waver in deciding to attend this course. I was surprised at the extra dimension studying composers, added to the playing and teaching."

"Really excellent in every way. Susanne worked so hard to give us as much tuition as her time allowed and to help us improve our playing. Feel really grateful. John was an excellent course accompanist."

"Tuition at the highest level!"