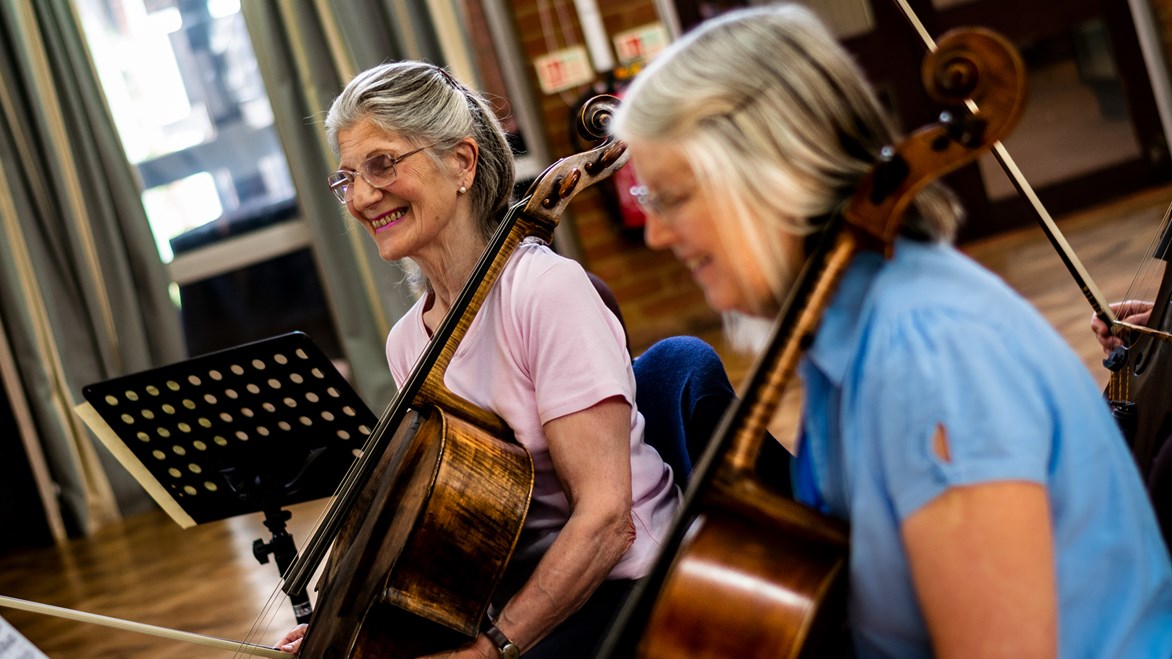 This course provides an opportunity for intermediate string players (excluding double-bass) to explore chamber works in small ensembles, alongside the study of prescribed set pieces from the chamber music repertoire.

STANDARD: IMPROVER, CONFIDENT.

Resident: £509 Non-Resident: £388 (25% off for under 27s) Code: 23/350

Booking for Members opens at 11am on Monday 27 February 2023.

Non-Member and online booking opens at 11am on Monday 27 March 2023.

For details on how to become a Member to take advantage of early booking, see here.
What is the course about?
This popular course is designed for individual string players (though pre-formed groups are also welcome) of around Grade 5 standard who wish to explore the string chamber music repertoire, both en-masse and in chamber groups. The course will include sectional rehearsal of the set repertoire, which will be available to applicants for personal practice from six weeks before. The exact musical content is very much dependant on the enrolment, thus giving the scope for duets and trios as well as quartets. It is sometimes necessary or preferable for instrumental parts to be doubled in the smaller ensembles. The chief aim is to be flexible and give all participants a pleasurable, musical experience through the medium of chamber music.
What will we cover?
Musical and technical issues as they arise, most especially those encountered in the art of playing in a chamber group.
What will we accomplish? By the end of this course you will be able to…
Play the set repertoire with confidence, and we will have learnt and enjoyed some lovely music.
What level is the course and do I need any particular skills?
As a rough guide, to get the most from the course you should be able to play your instrument to a minimum of Grade 4 standard and feel confident in holding a musical line on your own.
How will the course be taught, and will any preparation be required?
The course includes sessions playing as a string orchestra, sectional rehearsals, and tuition in small chamber groups. It is useful to have looked at the set pieces prior to the course.
Will music be provided in advance of the course?
The set repertoire will be available on this website from approximately six weeks before the course. Participants may also wish to bring their own choice of music to work on. Course members may also make use of the resources of Benslow library during their stay.
Is there anything I need to bring?
Instrument, rehearsal pencil and rubber, and any relevant music you may wish to play.
What previous participants said about this course…
"Enjoyable, fun, well-pitched. Plenty to learn."

"A lovely course if you enjoy playing chamber music and excellent for the amount of help you get from the tutors"

"Patient and helpful tutors."