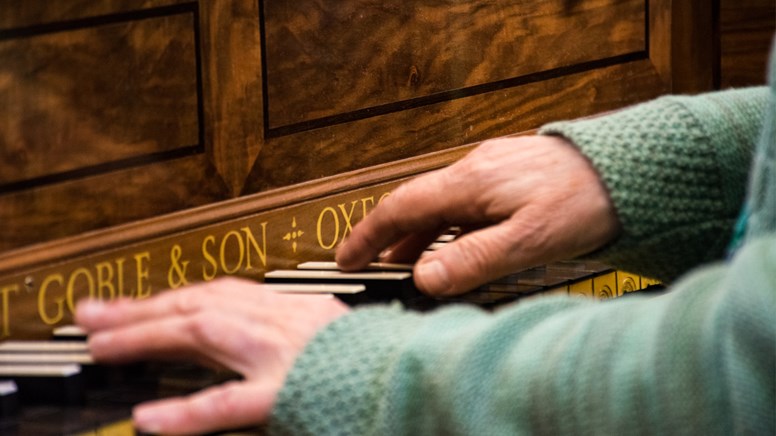 The Herschel Players will coach a range of trio sonatas for combinations of baroque instruments: recorders, violins, oboes, flutes, viols, baroque cello, bassoon and harpsichord. Any appropriate repertoire can be represented: French, German, Italian and English.

STANDARD: CONFIDENT, SKILFUL.

Resident: £359 Non-Resident: £260 (25% off for under 27s) Code: 23/279.

Booking for Members opens at 11am on Monday 27 February 2023.

Non-Member and online booking opens at 11am on Monday 27 March 2023.

For details on how to become a Member to take advantage of early booking, see here.
What is the course about?
We are delighted to welcome back Graham, Susanna and Mie to lead this popular baroque trio sonata course for pre-formed groups (Grade 6 and above please). Course participants are asked to bring their own music and to prepare a selection of pieces for which they'd like expert guidance. Instruments welcomed are: recorder, oboe, flute, violin, viols, cello, bassoon, harpsichord, and students can choose to sing, if they wish. Participants don't necessarily need baroque set-up instruments but it should be noted that we will be playing at A=415 and for string players a baroque bow would be a great help.
Tutor website: www.herschelplayers.com
What will we cover?
We will explore in detail the music which participants present looking at baroque performance practice: phrasing – where to breathe and shape, the use of the bow; articulation; ornamentation – in accordance with the style of music, whether it is French or Italian for example; continuo playing and figured bass.
What will we accomplish? By the end of this course you will be able to…
play your pieces in a period appropriate, stylish and dynamic way.
What level is the course and do I need any particular skills?
Players should be fluent and technically confident on their instruments. This course is open only to pre-formed groups to ensure a balanced range of skills and a good level of ensemble playing experience.
How will the course be taught, and will any preparation be required?
All groups will be coached multiple times by each tutor during the course to give equal access to the tutors' individual areas of expertise and a good balance of feedback for each group. Participating ensembles should bring a range of music and, ideally, have prepared at least some of it in advance to get maximum benefit from the tuition time. Some more confident groups like to present music which isn't pre-prepared and to explore it with the guidance of the tutors. We like to reserve the final session of the course for a relaxed sharing of some of the music we've been working on. If anyone is uncomfortable with this please let us know.
Will music be provided in advance of the course?
Music will not be provided. Participants should bring their own copies of music they'd like to play.
Is there anything I need to bring?
Music, pencil.
What previous participants said about this course…
"All three tutors could not have been better - superb musicians and lovely people."

"A very enjoyable few days. I wish it could have been longer!"

"The tutor group works really well together and this course was one of the best I've been on."

"It is very interesting to work with tutors on a work which is not pre-prepared; a joint exercise in interpretation and discovery."

"Just brilliant! Tutors so professional, so talented as performers as well as coaches, enthusiastic, really interested in helping the participants to develop."