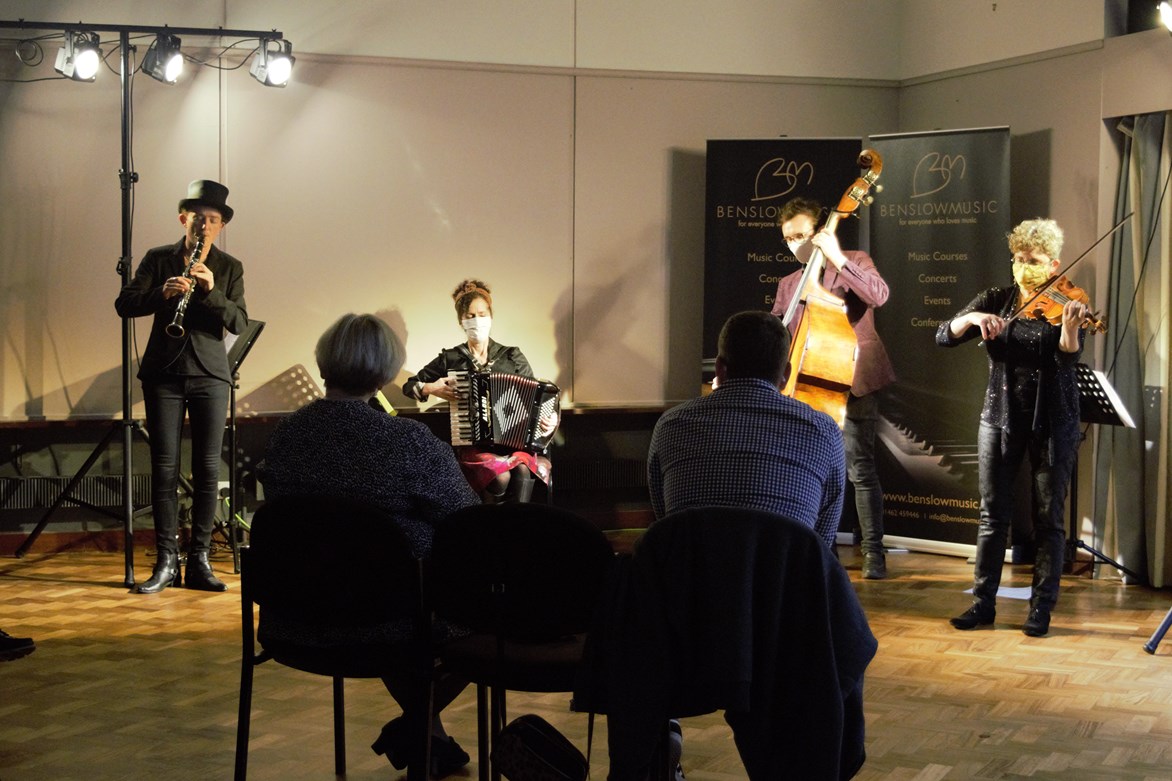 The second Benslow Music Young Composers Competition, in partnership with the London Klezmer Quartet, was won by William Dryland (age 21; Durham University).
The winning piece 'Whistler Medley' was premiered in a concert given by the London Klezmer Quartet on Friday 30 October 2020 at Benslow Music in Hitchin.
Will, a Durham University graduate, said: "I was utterly thrilled and delighted to hear that I'd won. When submitting my piece I hoped for the best but never expected to make it as far as I did – I guess that three-year music degree was worth it after all! It is an absolute privilege to have my work performed by professional musicians and I look forward to working with the London Klezmer Quartet in the near future."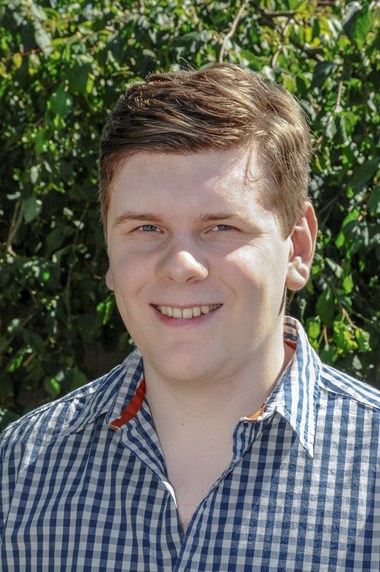 The competition was judged by Benslow Music President Judith Weir (Master of the Queen's Music) and Ilana Cravitz and Susi Evans of the London Klezmer Quartet.
What the judges said:
Judith Weir said that William's piece was "well sustained, and has impressive structural control; it feels like a single span of music, even though it constantly develops. Looks virtuosic and exciting, but at the same time practical for the performers."
Ilana Cravitz and Susi Evans of the London Klezmer Quartet added: "William composed a beautiful expressive melody to frame the piece with nice sparse accordion accompaniment. It's nice how the piece builds to a climax and then returns. Very playable for both professionals and amateurs; well written for LKQ and would fit well with the group's repertoire."
The judges also commended runner up Sarah Cattley (age 24; University of Cambridge) for her piece 'Meeting in the Fields'. Judith Weir said: "Forthright and exciting, bold and vividly shaped melodies. The metrical writing is lively and interesting, very challenging for the medium of folk music performance."
The other 4 finalists received comments on their compositions from Judith Weir. They were Emily Dore (age 21; Royal Academy of Music), Emmanuel Layward Wells (age 24; Royal Welsh College of Music and Drama), Finn Talisker Rawlings (age 20; Exeter College and Leeds College of Music) and Pete Shaw (age 22).
The 2021 Benslow Music Young Composers Competition will give the opportunity to write for two distinguished performers, soprano Sarah Leonard and pianist Stephen Gutman. The competition will commemorate the 50th anniversary of Stravinsky's death and songs will focus on the subject of Spring as a tribute to one of his most famous works: The Rite of Spring. For more information and to register your interest in taking part, click here.
Biographies:
Will Dryland (age 21) was born and raised in Jersey where his interest in composition developed from an early age. He was twice selected for the Sound and Music Summer School for Young Composers held at the Purcell School in 2016 and 2017, engaging first with Jazz music followed by composition for film. He has recently graduated from Durham University with a degree in Music and is due to return to Durham this year to undertake a Masters in Composition under Eric Egan, Richard Rijnvos, and James Weeks. Outside of academia, Will plays trombone in a variety of both local and University-wide ensembles and orchestras, and has recently served as the Concerts and Rehearsals Manager for The Hill Orchestra.
The London Klezmer Quartet is a dynamic group of performers whose deep understanding of klezmer, the celebratory and soulful music of Eastern European Jews, is reflected in exuberant, passionate and accomplished performances that captivate audiences of all ages and backgrounds. The group plays old and new traditional material guaranteed to move audiences from toe-tapping to tears and back again in moments. The band has opened Jewish music festivals in Sao Paolo Brazil (Kleztival), Gelsenkirchen and Munich (Germany). They have also played at Jewish music festivals in Norway and Sweden. In the course of six tours, LKQ played to packed houses around Australia, headlining at the National Folk Festival in Canberra two years running and at other festivals including the Blue Mountains Music Festival, Fairbridge Music Festival, Illawarra Folk Festival and Port Fairy Folk Festival. LKQ has also performed in Belgium, Finland, Holland, Latvia, Luxembourg, New Zealand. LKQ has released four well-reviewed CDs (read reviews). According to the London Evening Standard, the album confirms LKQ as "One of the best bands in the UK playing klezmer music". Songlines magazine said of the CD: "Expert players... A fantastic collection of nostalgic reveries." The Sunday Times has said: "The tradition is safe in their hands," and FRoots magazine calls LKQ: "a band at the creative forefront of the European klezmer revival". www.londonklezmerquartet.com
Judith Weir lives in London, where she has had a long association with Spitalfields Music Festival; and in recent years has taught as a visiting professor at Princeton, Harvard and Cardiff universities. Honours for her work include the Critics' Circle, South Bank Show, Elise L Stoeger and Ivor Novello awards, a CBE (1995) and the Queen's Medal for Music (2007). In 2014 she was appointed Master of The Queen's Music in succession to Sir Peter Maxwell Davies. In January 2015 she became Associate Composer to the BBC Singers. Much of her music has been recorded, and is available on the NMC, Delphian and Signum labels. In 2014-15 there were releases of The Vanishing Bridegroom (NMC) and Storm (BBC Singers/Signum). Judith Weir's music is published by Chester Music and Novello & Co. www.judithweir.com
Listen to the winning piece...